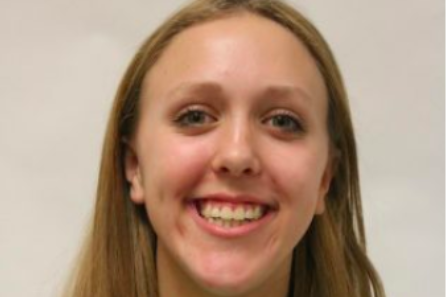 Sophomore Maycie Waters has four siblings three sisters and a brother. Waters is involved in journalism, volleyball, basketball, and soccer. Her favorite sport is soccer "because I like tackling people." One of her most memorable moments during soccer is the team nights because they are "always a blast." She got interested in journalism because her sister Kenzie Waters told her it was fun. Maycie plans on moving into broadcasting after journalism production.
After high school she plans on attending either DMACC or the University of Iowa to be a nurse anesthetist. She loves to help people and has been preparing for the future by taking certain classes. One thing that she learned that she can take away from journalism is how to take videos and write in AP style. 
As a child she believed in Santa for way too long and was sad to find out he wasn't real, "Yeah because his presents were the best and I made some bomb cookies." One of her all time favorite movies is the Polar Express.
Story by Madison Botos
Maycie Waters, Staff Writer
May 14, 2019

Boys' Track Qualify Nine Events to State Meet

(Story)

Apr 25, 2019

Atlantic Boys Finish Third at Co-Ed Ram Relays

(Story)

Apr 22, 2019

Trojans Participate in Tiger-Knight Invitational

(Story)

Apr 16, 2019

Trojans Take Second at Ken Carstens Invitational

(Story)

Apr 05, 2019

Boys' Track Beat Out Rams for First Place

(Story)

Apr 01, 2019

Boys' Track Starts Season Off Strong

(Story)

Mar 27, 2019

Career Day Returns to AHS

(Story)

Feb 22, 2019

Girls Basketball Season Comes to a Close

(Media)

Jan 21, 2019

100 Word Rants: 2018-19

(Story)

Jan 10, 2019

Glenwood Rams Top Atlantic Trojans

(Story)

Dec 11, 2018

Panthers Top Trojans in Girls' Hoops

(Story)

Dec 01, 2018

Girls Basketball Begins a New Season

(Story)

Oct 30, 2018

Kuemper Catholic Pushes Past Trojans and Other Area Teams

(Story)