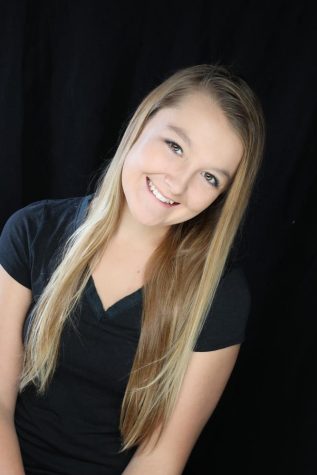 Senior Mariah Cook is the head editor-in-chief of the yearbook department. She is most proud of the 2018 yearbook they are currently working on. "I'm excited for people to see it and get feedback of what they think," said Cook. A specific aspect of journalism that Cook enjoys most is hearing what others have to say to improve the yearbook. She said she likes it when she can "make a great idea out of a little idea."
Not only is Cook involved in journalism,
s
he is also involved with cheerleading, dance team, FFA, volleyball, an
d is a wrestling manager
. Allison Berryhill, the journalism teacher, is a role model to Cook in many ways. "She has been there for me through everything. She always has just the right thing to say," Cook said.
Outside of school, Cook enjoys spending time with her boyfriend, watching Netflix, cheering for the Iowa State football team, and participating in extracurriculars.
If Cook could only eat one thing for the rest of her life, it would
definitely be pizza
. An interesting fact about Cook that many people don't know is that her great, great, great grandfather invented "Cookies BBQ Sauce." A belonging she owns that she would never give away is her grandfather's Christmas stocking. "When my grandpa passed away, all of the kids got something of his, and I got his stocking."
Cook said that her friends would describe her as outgoing and helpful. "People come to me all the time for advice." Someone that knows her best would either be her mom or her best friend, Kara Christensen. "My mom has been in my life since I was born, and I tell my best friend everything." Something Cook would never change about herself is her personality.
Profile written by: 
Kylie Neal and Kelsie Siedlik
Mariah Cook, Yearbook Editor in Chief
Sep 01, 2017

AHS Dance Team Fundraises for Trip to State Competition

(Story)

May 19, 2017

Over View: Boys' Soccer vs. Denison with Kyle Redinbaugh

(Story)

May 19, 2017

Boys' Soccer vs. L.C. and Harlan

(Story)

Apr 21, 2017

Boys Soccer vs. Glenwood

(Story)

Apr 19, 2017

Boys Soccer vs. Carroll

(Story)

Mar 28, 2017

Boys' Soccer Scrimmage

(Story)

Mar 17, 2017

Boys' Soccer Preview

(Story)

Sep 15, 2016

Trojans take on the Huskies

(Story)

Apr 29, 2016

School Board: New Coach, Iowa Assessments, ELL and Homeschooling

(Story)

Apr 04, 2016

Update Regarding School "Threat"

(Story)

Mar 31, 2016

DAwG Week to Focus on Digital Safety

(Story)

Mar 18, 2016

Dinner at the Diner

(Story)

Mar 16, 2016

Did someone say Jimmy John's?

(Story)

Mar 09, 2016

Show Choir Heats up Emmetsburg

(Story)

Jan 15, 2016

Beef Producers Grill 540 Burgers for AHS

(Story)