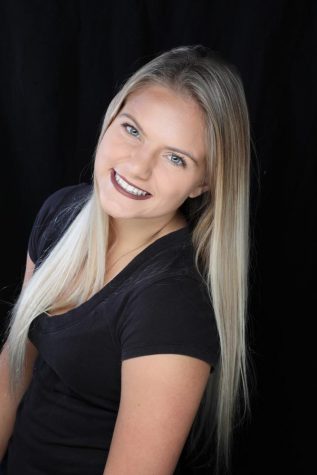 Kylie Proehl is the sports anchor on Eye of Needle. She is also a yearbook editor and a lead photographer. She is most proud of a story she wrote her sophomore year which won an IHSPA and received third place
The aspect Proehl enjoys about journalism is, "Photography because I has opened up the door to what I want to become."
Proehl is involved in volleyball, football cheerleading, track and dance team.
Proehl enjoys "laying in bed watching Grey's Anatomy," during her free time.
One thing people don't know about Proehl is, "When I was 7 I slipped in the bathroom and knocked out my 4 front teeth."One thing Proehl wouldn't change about herself is her laugh because it "is contagious and I think m snort is funny."
The person Proehl looks up to is her grandma because "she has taught me a lot in life." The one person who knows her best is Kole Schmitt.
The place Kylie finds very calming and goes to is Rancho.
Proehl's friends would describe her as, "A very sarcastic, talkative, loud human being."
Proehl described herself in the same way, "Sarcastic and funny."
The one thing she would never give away is  her semi colon necklace because it "has a lot of meaning behind it.
If she had to choose one type of food to eat for a year, Proehl said it would be the "Texas Roadhouse Rolls."
The last thing she cooked was a pizza.
The wallpaper on her phone, "is a picture of Lagan T. after he asked me to homecoming because he was the first guy to ask me to a school in the four years that I have been here."
The talent that Proehl wishes to acquire immediately is to be good at the 400 meter hurdles.
Profile written by: Rachael Stanley
Kylie Proehl, Photography/Yearbook Editor
Dec 08, 2017

Eye of the Needle, November 22, 2017

(Story)

Dec 08, 2017

Eye of the Needle, November 29, 2017

(Story)

Dec 07, 2017

Eye of the Needle, December 6, 2017

(Story)

Sep 12, 2017

Trojans Suffer First Loss of the Season

(Media)

Sep 01, 2017

AHS Fuel Requests Hurricane Harvey Donations

(Story)

Apr 27, 2017

Getting to Know the Class of 2017: Alexis Boes

(Story)

Apr 25, 2017

Can You Guess That Scent?

(Story)

Mar 17, 2017

Boys Head To Iowa State For First Track Meet

()

Feb 16, 2017

Iowa State Team Duals Results

(Media)

May 20, 2016

Eye of the Needle – May 19, 2016

(Story)

May 11, 2016

Eye of the Needle – Week of May 11, 2016 – Episode 66

()

Dec 01, 2015

Sports Profile: Ryan Hawkins

(Story)

Nov 21, 2015

Saturday Night: Trojan Winter Sports Kickoff

(Story)

Oct 02, 2015

Meet a Non-running Runner

(Story)