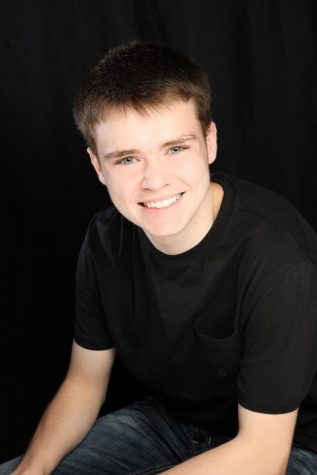 AHS journalism member, Kole Schmitt is a producer for the Eye of the Needle. He said that the journalism project or story that he is most proud of was "probably the Christmas episode." He also likes to hang out with his friends during journalism class. Journalism is one of his favorite things in school, because he is involved with "nothing" outside of school. Even though Schmitt isn't involved with any extracurricular activities, he can "skateboard."
Schmitt said that he just likes to hang out with friends in the afternoon. "I'd never change how scared I get when I get in the car with McKayla," Schmitt said. Schmitt also said that the football team that he roots for is the "Atlantic Trojans." Schmitt said that he looks up to his mother, because she is inspirational.
"My family knows me best," Schmitt said. Schmitt described that his calming place that he goes to is his bedroom. Friends tend to call him "knowledgeable." Schmitt also describes himself as "friendly and bold." He also said that if he could eat only one food it would be "definitely shrimp fried rice." The last thing that Schmitt said that he has cooked was pot pie. "The wallpaper of my phone is of me and Zeke," Schmitt said. "If I could have one talent without effort, it would have to be, making a billion dollars overnight," Schmitt said.
Profile written by: Connor Church
Kole Schmitt, EON Producer
Dec 08, 2017

Eye of the Needle, November 22, 2017

(Story)

Dec 08, 2017

Eye of the Needle, November 29, 2017

(Story)

Dec 07, 2017

Eye of the Needle, December 6, 2017

(Story)

Apr 25, 2017

Can You Guess That Scent?

(Story)

Mar 16, 2017

Welcome to AHS, Mr. Barber

(Media)

Jan 26, 2017

The Eye of the Needle – Jan. 25, 2017

(Media)

Dec 14, 2016

The Eye of the Needle – Dec. 14, 2016

(Media)

Feb 07, 2016

Who's Going to Win the Super Bowl?

(Story)

Jan 26, 2016

What's Your Favorite Movie?

(Story)

Dec 23, 2015

How much does your bag weigh?

(Story)

Dec 09, 2015

1 Question 25 Answers: What's on your bucket list?

(Story)

Nov 20, 2015

1 Question 25 Answers

(Story)

Nov 17, 2015

Crazy Town at AHS

(Story)

Oct 20, 2015