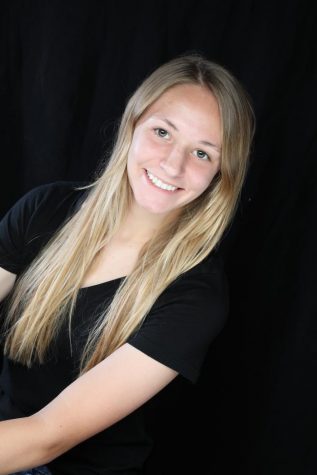 Halsey Bailey is a junior at Atlantic High School. She is a business manager for AHS Journalism as well as the Fine Arts Anchor for Eye of the Needle. "I enjoy broadcasting and the behind-the-scenes like behind the camera stuff." She is most proud of writing senior spotlights and directing a video about tattoos. Bailey is also involved in cross country, basketball, soccer, Spanish club and FFA. Her perfect relaxing afternoon would be, "staying at home, drinking coffee from one to three and watching Netflix or 'Harry Potter
.'"
Most people believe Bailey is an only child but she has a younger brother named Jonathan. She roots for "Iowa Hawkeyes all the way" and Chiefs for the professional league. She says her parents know her best and she looks up to "my older cousins who are out of college and are doing good." "Organized and happy" are two words she uses to describe herself. If she could only eat one food for a year, her choice would be soup. "I would never give away all of my Harry Potter possessions," Bailey said.
The last thing she baked or cooked was Monster cookies "two or three days ago" with her dad in their kitchen.  "If I could acquire a talent, it would be a singing talent because I suck at singing," she said.
Bailey would never dye her hair because that's the one quality about herself she would never change. Finally, Bailey's phone wallpaper is, "a picture of my mom's flowers I took" and it matches her phone case. Bailey hopes for a great next two years of journalism.
Profile written by: Katie Saluk and Pluma Pross
Halsey Bailey, EON Anchor, Business Manager
Sep 13, 2019

Boys and Girls XC Stomp Out Competition

(Media)

Oct 23, 2018

On the Road to Fort Dodge

(Media)

Sep 16, 2018

Eye of the Needle Sept. 14, 2018

(Story)

Sep 09, 2018

Trojan Runners Make the Most of the Mud

(Media)

Sep 08, 2018

Eye of the Needle Sept. 7, 2018

(Story)

Sep 02, 2018

Eye of the Needle Aug. 31, 2018

(Media)

Sep 01, 2018

New Competition Proves Successful for Trojan XC

(Media)

Aug 28, 2018

Cross Country Competes at Glenwood

(Media)

Dec 08, 2017

Eye of the Needle, November 22, 2017

(Story)

Dec 08, 2017

Eye of the Needle, November 29, 2017

(Story)

Dec 07, 2017

Eye of the Needle, December 6, 2017

(Story)

May 10, 2017

Getting to know the Class of 2017: Hannah West

(Story)

Apr 26, 2017

AHS Celebrates Leadership Week

(Story)

Feb 10, 2017

Getting to Know the Class of 2017: Kasandra Brooks

(Story)

Feb 10, 2017

Getting to Know the Class of 2017: Camden McFadden

(Story)

Feb 03, 2017

Crush-O-Grams Are Back

(Story)

Jan 27, 2017

Thefts Seldom Reported at AHS

(Story)

Jan 12, 2017

Ins and Outs of Bomb Threats

(Story)

Dec 21, 2016
Dec 06, 2016

Christmas Kickoff

(Story)