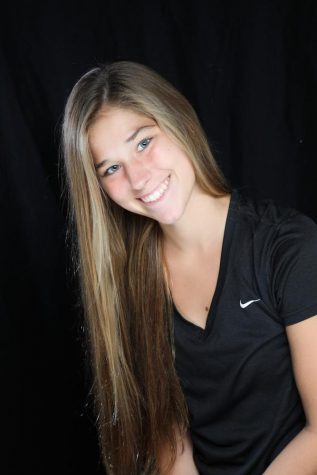 Junior Erin Wendt is one of the two business managers for the AHS journalism department. She also occasionally writes stories for AHSneedle, and her favorite stories are the "Getting to Know the Class of 2017" articles. Wendt said she loves the "independence" of journalism and being able to choose what you do, like broadcasting or yearbook, as well as what she wants to write about. Her favorite memory in journalism so far has been participating in the Media Now camp at Drake University this past summer, where she learned a lot about writing stories as well as meeting many new people.
Wendt has been involved in cross country and soccer so far in high school and has joined FFA this year. Wendt enjoys the "atmosphere during cross country" and how everyone can relate to each other, because no matter if you're JV or varsity, "everyone is giving their best effort." Wendt's favorite thing about soccer is the overall attitude of the team. She said, "Even though we don't have winning seasons, we still make the most out of it and have fun." She is also is looking forward to making some memorable moments in her first year of FFA.
Wendt says her twin sister Ashley knows her best, and she enjoys "chilling on the couch" on her phone, or riding horses with her mom and sister. If her friends had to describe her, they would probably say that she's good at making cookies and the "mom' of the group. They might also say she's quiet because she said she doesn't "talk a lot when we're hanging out in groups."
Wendt would describe herself as quiet and nice, but her sister might disagree with that at times. She also says that she goes to her room for a calming place because "I can be alone." Something that she would never change about herself is her personality.
Profile written by: Ashley Wendt
Erin Wendt, Business Manager/Editor
Nov 08, 2018

Twelfth Place Finish for Girls' Swim Team

(Story)

Nov 07, 2018

FFA Brings Seven to National Convention

(Story)

Oct 31, 2018

One Last Go Around for Trojan XC

(Media)

Oct 31, 2018

Girls' Swimming Dives in at Regionals

(Story)

Oct 17, 2018

JV Teams Finish Season at Missouri Valley

(Story)

Oct 17, 2018

Digging for Details about FAFSA

(Story)

Sep 22, 2018

Homecoming Week is Back for 2018

(Story)

Sep 20, 2018

XC Runners Cruise through Creston

(Media)

Sep 14, 2018

Trojan XC Brings Home First-Place

(Story)

Sep 13, 2018

Baseball and Softball Show Summer Success

(Story)

Sep 09, 2018

Trojan Runners Make the Most of the Mud

(Story)

May 11, 2018

Alyssa Ginther Earns Top Spot for Hawkeye 10 Girls' Golf

(Story)

May 11, 2018

Trojan Boys Pick Up Three Conference Titles

(Story)

May 02, 2018

Double-Header vs AHSTW Called Short Due to Weather

(Story)

Apr 30, 2018

Atlantic Hosts Tennis Tournament

(Story)

Mar 16, 2018

Local Group Formed to Enhance School Safety

(Story)

Mar 02, 2018

Meet a State Champ: John McConkey

(Story)

Jan 19, 2018

AHS Hosts SWIBA Honor Band

(Story)

Nov 17, 2017

State Cross Country Meet 2017

(Story)

Oct 20, 2017

Trojan Runners Qualify for State

(Story)

Oct 19, 2017

Busy Week for Trojan Cross Country

(Story)

Sep 22, 2017

Cross Country Teams Finish Strong at Creston Meet

(Story)

Sep 08, 2017

XC Teams Place Second at Clarinda Meet

(Story)

May 19, 2017

Getting to Know the Class of 2017: Nicole Kinney

(Story)

Apr 26, 2017

AHS Celebrates Leadership Week

(Story)

Mar 01, 2017

Getting to Know the Class of 2017: Paige Henderson

(Story)

Mar 01, 2017

Getting to Know the Class of 2017: Emily Hohenberger

(Story)

Feb 03, 2017

Crush-O-Grams Are Back

(Story)

Jan 27, 2017

Thefts Seldom Reported at AHS

(Story)

Jan 12, 2017

Ins and Outs of Bomb Threats

(Story)

Dec 19, 2016

How to Study for Semester Tests

(Story)