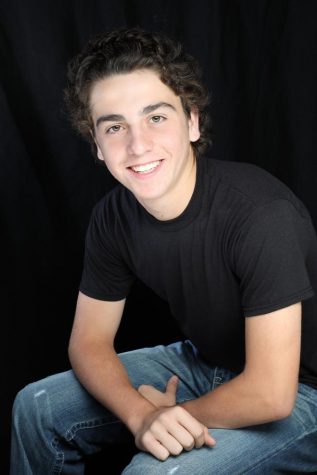 Senior Cooper McDermott is a sports journalist on the AHS journalism team. McDermott said he is most proud of his Homecoming football story and that a specific aspect he enjoys about journalism is educator, Allison Berryhill.
McDermott is involved in football, tennis, and baseball throughout the year. He plans to attend Dakota State University next fall to pursue a degree in teaching and to play baseball for the DSU Trojans. McDermott said, "One thing I would never change about myself is my athleticism."
"One person I look up to is my grandpa John, because he is a great overall guy and a great cook," McDermott said. "If I had to eat one food for a year, I would eat my grandpa's chicken alfredo." The last thing McDermott baked was chocolate chip cookies.
"If I had to describe myself in two words, I would say kind and joyful," McDermott said. McDermott said that his friends would describe him as athletic and gorgeous.
"One thing that I own and would never give away would be my one strap bookbag," McDermott said. "If I could acquire one talent without effort it would be extreme pen spinning."
One calming place that McDermott likes to go to is the weight room. "My idea of a relaxing afternoon would be snuggling with Chloe," he said.
Profile written by: Chloe Davis and Mckenzie Waters
Cooper McDermott, Sports Editor
Dec 04, 2017

Trojan Wrestlers Host First Tournament

(Story)

Dec 01, 2017

Trojans Square Off Against St. Albert

(Story)

Nov 10, 2017

Ally Anderson Signs Letter of Intent to Play Softball at DMACC

(Story)

Oct 19, 2017

Trojans ends year in Carroll with most wins in seven seasons

(Story)

Sep 29, 2017

The Trojans fall to Kuemper Catholic

(Story)

Sep 26, 2017

Trojan Volleyball takes home another tournament victory

(Story)

Sep 19, 2017

Trojans fall to 2-2

(Story)

Sep 12, 2017

Trojans Suffer First Loss of the Season

(Story)

Sep 08, 2017

2-0 Trojans to Take on 1-Win Monarchs

(Story)

Sep 07, 2017

Trojan Volleyball Keeps Improving

(Story)

Aug 31, 2017

Trojan Football Starts Season on the Right Foot

(Story)

Aug 28, 2017

Trojan Volleyball Shows Improvement as Season Opens

(Story)

May 24, 2017

Getting to Know the Class of 2017: Eric Wieser

(Story)

Dec 09, 2016

Out With the Old, and in With the New

(Story)

Dec 08, 2016

Loose Change Day at AHS

(Story)