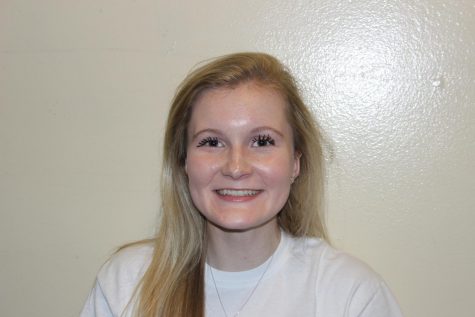 Atlantic High School sophomore Chloe Davis is a member of the AHS Journalism Team. Davis is employed at Salute Gymnastics. "I enjoy motivating young gymnasts to better themselves, both as an individual and an athlete," Davis said. Davis works there every Monday and Thursday.
In her free time, Davis likes to go to Rancho and scoop the loop in her 2007 Torrent. Davis is involved in volleyball and soccer, as well as being a basketball manager for the boys' basketball team.
A calming place Davis likes to disappear is at Lake of the Ozarks. That is where she is able to spend time with friends and family.
Story by McKenzie Waters
Chloe Davis, Journalism Production Student
Sep 16, 2018

Eye of the Needle Sept. 14, 2018

(Story)

Sep 08, 2018

Eye of the Needle Sept. 7, 2018

(Story)

Sep 02, 2018

Eye of the Needle Aug. 31, 2018

(Media)

May 10, 2018
May 09, 2018

Getting to Know the Class of 2018: Paige Williams

(Story)

May 07, 2018

Getting to Know the Class of 2018: Cooper McDermott

(Story)

Feb 28, 2018

2018 Winter Olympic Games Conclude

(Story)

Feb 14, 2018

NEWS BRIEF – Valentine's Day Warms the Hearts of AHS Students

(Story)

Feb 02, 2018

Prom Season is Just Around the Corner

(Story)

Jan 25, 2018

NEWS BRIEF – Police Officer at AHS

(Story)

Dec 12, 2017

The Stress of Picking a College

(Story)

Nov 16, 2017

Girls' Basketball Preview

(Story)