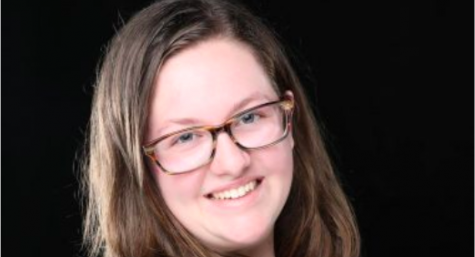 With the aspiration of reaching her audience and providing them with accurate and engaging information, Anastasia Muell acts as an editor of AHSneedle, the official news website of Atlantic High School.
Muell is currently tasked with writing news briefs as well as writing other stories to provide information to students. Alongside the inclusion of these works, her published pieces feature a variety of individual topics, both challenging and exciting for Muell. Her most demanding story was written near the beginning of the school year, presenting important details about a technological issue within the online textbooks. She was charged with the expectation of interviewing students, though not many knew about the issue. Despite this difficulty, Muell has encountered a lot of great experiences in journalism, with her favorite being the painting of her ceiling tile, something advisor Allison Berryhill does with all editors. Muell said that seeing everyone "create something was fun," allowing her classmates to have an individualistic approach upon their environment.
Outside of journalism, Muell can be found hard at work with band and choir, alongside being a member of the soccer team. Busy yet enthusiastic, she said her goals this year are to improve on her writing abilities while also getting ideas out to a wide audience. With this in mind, the start of the new year is sure to bring compelling stories her way.
Story by Shayla Luke
Anastasia Muell, Editor
Oct 08, 2019

Meet AHS' Latest Foreign Exchange Student

(Story/Media)

Sep 24, 2019

New Hallway at AHS

(Story)

Sep 23, 2019

What Seniors Think Freshmen Should Know

(Story)

Sep 04, 2019

New Teachers Galore At AHS

(Story)

Jan 02, 2019

Atlantic to Host Individual State Speech

(Story)

Nov 17, 2018

New Tunes from the Band Room

(Story)

Sep 14, 2018

Marching Band is Back in Full Swing

(Story)

Sep 11, 2018

AHS Welcomes New Teachers

(Story)

May 04, 2018

Getting to Know the Class of 2018: Nicole Eilts

(Story)

Apr 23, 2018

Getting to Know the Class of 2018: Melanie Hart

(Story)

Mar 06, 2018

Winter Formal Re-Try

(Story)

Feb 27, 2018

NEWS BRIEF-End of Third Quarter

(Story)

Feb 12, 2018

Catching the Big Fish

(Story)

Jan 29, 2018

NEWS BRIEF – State Show Choir

(Story)

Dec 08, 2017

The Process of NHS

(Story)

Nov 22, 2017

Online Textbooks Experience Issues

(Story)