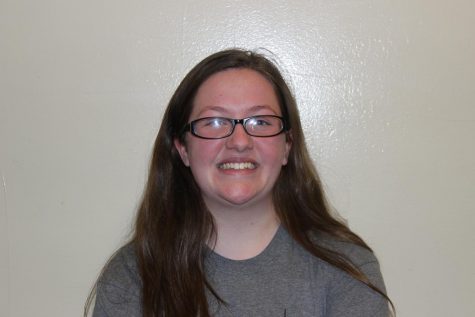 In addition to Journalism, sophomore Ana Muell is in Premiere show choir. This year in Premiere Muell's favorite song was the ballad "How to Return Home," in which she performed a solo.
Muell is also involved in soccer, band, marching band, and pep band. Muell loves to read and watch Neflix during her free time. Muell loves to watch "The Flash" and "My Babysitter's a Vampire."
Muell has two little brothers, as well as four cats and a dog. Muell said someone she looks up to is here mom, Carrie Ann Hayward, because "she has always been the smartest person I know and she has taught me to pay attention to the details." Muell said this has always helped her with problems.
Anastasia Muell, Journalism Production Student
Sep 14, 2018

Marching Band is Back in Full Swing

(Story)

Sep 11, 2018

AHS Welcomes New Teachers

(Story)

May 04, 2018

Getting to Know the Class of 2018: Nicole Eilts

(Story)

Apr 23, 2018

Getting to Know the Class of 2018: Melanie Hart

(Story)

Mar 06, 2018

Winter Formal Re-Try

(Story)

Feb 27, 2018

NEWS BRIEF-End of Third Quarter

(Story)

Feb 12, 2018

Catching the Big Fish

(Story)

Jan 29, 2018

NEWS BRIEF – State Show Choir

(Story)

Dec 08, 2017

The Process of NHS

(Story)

Nov 22, 2017

Online Textbooks Experience Issues

(Story)