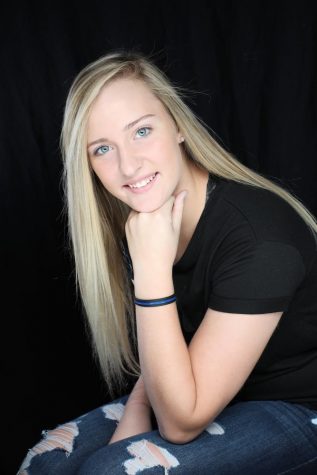 You can find her hitting dingers for the Atlantic High School's softball team as one of the best hitters in the state. You can find her "chilling" with her dog Dixon or watching Netflix on her bed, but you can also find her working hard editing for the Journalism department of AHS.
Senior Alexis Handel is the lead editor for AHSneedle.com. The story that makes Handel the most proud is the student handbook story she wrote this fall. Handel said, "It's the biggest story I've ever written."  One thing that she enjoys most about journalism is getting to "team up with Shelby Pelzer."  
Handel is involved in other extracurriculars, but she is most known for her appearance on the softball field.  Handel is also a fan of college and professional football, her favorite college team is the Iowa Hawkeyes and her favorite professional team is the Dallas Cowboys.
If she had to choose to eat one food for a year, it would be pepper jack steak burritos. She also said she if there was something she would never get rid of, it would be her dog Dixon also known as "Bubba."
One of Handel's friends in the journalism department, Shelby Pelzer, described her in three words: "Alexis is athletic, smart and funny. She's a great friend to have." Handel described herself as funny and athletic.  
Handel said one thing she would never change about herself is her eyes.  One person Handel looks up to is SoMo. "He works really hard and loves what he does," said Handel.  If Handel could acquire a talent without effort, it would be dancing.
Handel plays a huge role in not only the journalism department but all over Atlantic High School.
Profile written by: Kayla Mauk and Madison Fell
Alexis Handel, Lead Editor
Oct 18, 2017

AHS Elects Class Officers

(Story)

Oct 13, 2017

Trojan Meet Held at AHS

(Story)

Sep 15, 2017

AHS Fuel Could be Bringing a Sweet Treat to Activities

(Story)

Sep 01, 2017

Good Conduct Code Explained

(Story)

May 23, 2017

Getting to Know the Class of 2017: Jaicee Peckenpaugh

(Story)

May 17, 2017

Getting to Know the Class of 2017: Bryn Blanchette

(Story)

May 16, 2017

Getting to Know the Class of 2017: Kerra Christensen

(Story)

Feb 01, 2017

Should Seniors Play? – OPINION

(Story)

May 11, 2016

Eye of the Needle – Week of May 11, 2016 – Episode 66

(Story)

May 05, 2016

Eye of the Needle – Week of 5/4/16 – Episode 65

(Story)

Feb 17, 2016

Girls Basketball Wins First District Game in 8 Years

(Story)

Jan 13, 2016

Trojans Win Rollin Dyer Invitational

(Story)

Dec 04, 2015

RECAP: BBB Atlantic Over Winterset 12.1.15

(Story)

Nov 29, 2015

Trojans Open Season at Home Against Winterset Tuesday

(Story)

Nov 25, 2015

Eye of the Needle – Episode 46

(Story)

Nov 23, 2015

"Center" of Attention: Scott Leonard

(Story)

Oct 15, 2015

Rough Year for Trojan Football

(Story)

Oct 07, 2015

Ryan Hawkins Verbally Commits to Wayne State

(Story)