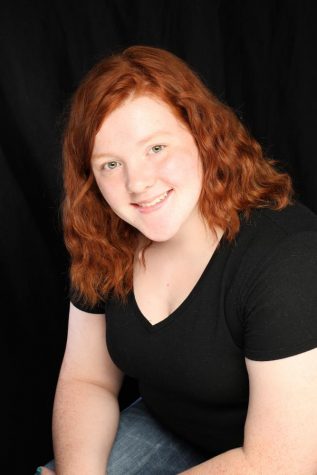 Junior Abbey Bishop is an editor on the AHS journalism team. During her time as an editor, the story she is most proud of is, "the one about the six new teachers to AHS" last year. Her favorite part of the journalism program is "being with Hannah Maley." Maley is also her best friend and fellow editor
Bishop's idea of a relaxing afternoon is sleeping, and a calming place for her is her bed. The one thing that many people don't know about her is that she owns her own business, PAWsome, where she makes and sells dog collars, leashes, and toys. She markets her products through Etsy and also at craft fairs.
The football teams that she roots for are Iowa State for college and the Stealers for the NFL.
One thing that Bishop would never change about herself is her red hair. When asked who she looks up to, she replied, "My grandpa, because he can talk to anyone and not judge who they are." Bishop and her friends both like her creativity and caring attributes.
Bishop says that the one thing she would never give away is her dog Maggie. Maggie is also her home screen on her phone. If you had to eat one food for a year Bishop would eat spaghetti. The last thing that Bishop has ever made was roman noodles. If Bishop could acquire on talent without any effort it would be knowing how to sew.    
Profile written by: Lucas Behrens and Dylan Litty
Abbey Bishop, Editor
Apr 09, 2020

Fashion Flip — OPINION

(Media)

May 25, 2018

Mental Health Awareness Month

(Story)

May 02, 2018

Prom 2018 – A Night in LA

(Story)

Apr 10, 2018

Students Walk Out to Support Parkland

(Story)

Feb 12, 2018

Show Choir Performs for Swing Inn

(Story)

Jan 31, 2018

Sheltered Reality Drumline Performs at AHS

(Story)

Jan 25, 2018

To Hurt or to Help? – OPINION

(Story)

May 24, 2017

Eye of the Needle – February 8

(Media)

May 23, 2017

Getting to Know the Class of 2017: Hanna Redler

(Story)

May 19, 2017
May 15, 2017

Getting to Know the Class of 2017: Kaitlin Behrens

(Story)

Mar 10, 2017

Hubers Welcome New Addition

(Story)

Jan 13, 2017

A Visit to the New Atlantic Ice Rink

(Story)

Jan 10, 2017

New Photo Booth Featured at Winter Formal

(Story)

Dec 15, 2016

Six New Teachers at AHS.

(Story)