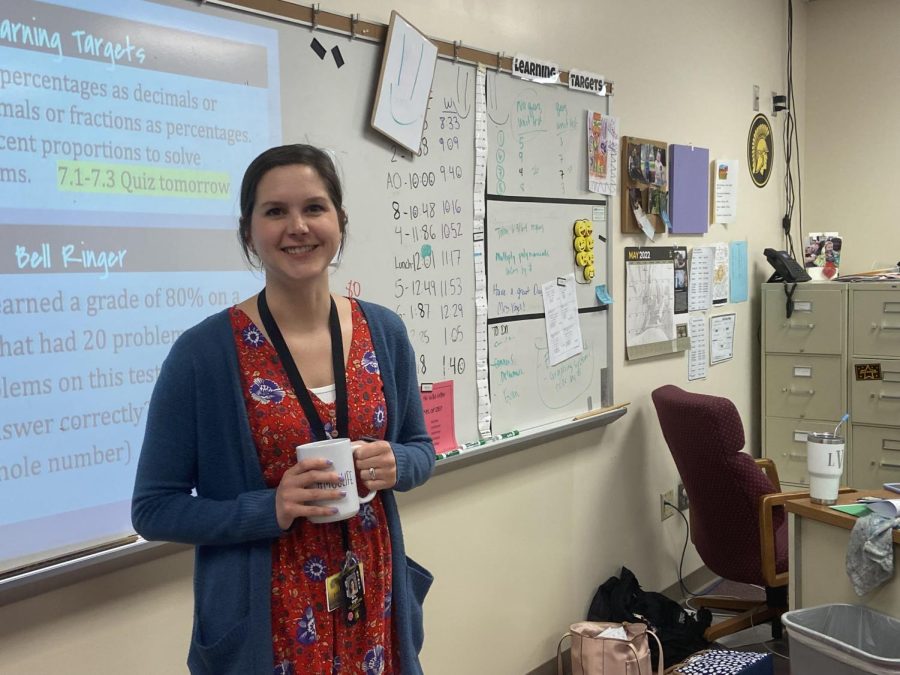 Chaylei Carey
"I will miss joking around and working one on one with students.  I love seeing students work out a problem using the desk as a whiteboard. AHS has an excellent staff of educators. I will miss seeing them on a daily basis," said math teacher, Laura Vogel. She decided to resign on April 21, 2022, and announced it to students the next day via Twitter.
Her Twitter thread read, "Yesterday I turned in my letter of resignation. After nine years of teaching, I have decided to leave education. Lots of tears were shed over this decision. There is so much I love about being a teacher, but unfortunately, there were a lot of aspects of my job that made me pretty unhappy. I'm still deciding what comes next and that's okay. Thanks to all the staff and students who made my days wonderful. You will be missed! This is in no way a disrespect to my school. It's just the reality of being a teacher right now. It's hard." 
Many students were saddened by this, including junior Josie Colton. "She's been my AO teacher since she's been here, and she's been here since I've been here. Her teaching skills are the best."
Vogel taught for nine years but three years at Atlantic High School. "Being in education has really opened my eyes to what other people go through. I don't even know a fraction of what some of my students experience but I know it is a lot to handle, especially as a teenager. It reminds me to always try to be kind," Vogel said. "Mostly I want to have a career that provides me with a better work-life balance. Teachers have a never-ending to-do list and we have to do so much outside of school just to be ready to do the instruction part of our jobs. I made the decision to not bring work home on weeknights at the beginning of the year, but I always felt like there was more I should be doing at night."
She found herself having to work on weekends just to be prepared for Monday. "If I didn't do anything over the weekend, I would be a stressed-out mess come Monday morning. I hated taking time away from my family and myself.  When I am home, I want to just focus on being a mother and a wife, not a teacher," she said.
Since resigning, she's accepted a position as a Statistical Analyst 1 at EMC Insurance. She looks forward to using her math degree to use and working from home.
"I love helping students one on one and I hope to tutor as well," she said.