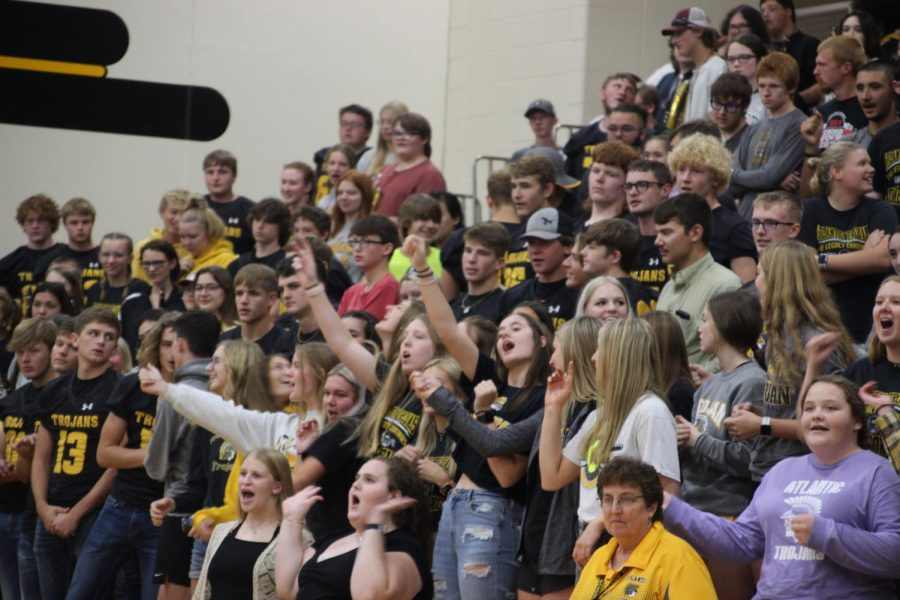 Josie Colton
The roaring student sections and echoing chants have been a tradition in high school for many years. The crowd rallied for the athletes as they pushed themselves towards victory. V-I-C-T-O-R-Y! As the first few points are scored. V-I-C-T-O-R-Y! Continuing into the second half. V-I-C-T-O-R-Y! Making that statement become reality. The excitement eventually comes to an end, and the school spirit seems to become less and less important as time goes on.
In Atlantic, it's called "Trojan pride." For some, Trojan pride may not be important, but for others, it is one of the most memorable parts of high school. As the new students flood into the building every year, it seems as if being a Trojan is not relevant anymore. It is not something to just blame on the underclassmen though. The upperclassmen have an important role in guiding the younger kids. "I've definitely seen a decrease in student sections at athletics as in this year and last year, maybe because of Covid or lack of interest," said sophomore Nick Bennett.
This year in the student section at Friday night football games, the younger students sat much farther back than usual and the energy throughout the older students was not very impressive. Some outgoing students continue to try to hype everyone up and keep the energy alive. Senior Ava Bruckner does all she can to make the student section louder. "I try to start cheering at football games when nobody else is cheering so we aren't quiet," said Bruckner.
A school in Saint Charles, Missouri, took school spirit to a personal level. They have a dedicated group to make sporting events much more exciting. "We try to spread the Goonies cheer to every activity here," Goonies leader Adam Shine said. "Whether it's football or swimming, we will make sure everyone gets the credit that they deserve." 
The sports that get the most attention in the Atlantic Community tend to be football, basketball, and baseball. These sports can be the most entertaining to watch, but many other sports do not get the credit they deserve. "I really try to support everything," said junior Jayden Proehl, "I post on snap about games to get things out there." More people should start trying to support every activity equally. He's always noticed that sports like swimming, tennis, and golf get very little support.
When students support only football, baseball, and basketball games,  other sporting events like cross country and tennis don't get the recognition they deserve. Everybody should experience the same audience.
At the dodgeball tournament for homecoming, many students were sitting down and not cheering. Nick Bennett tried to get everyone up to have some fun, but he did not prevail. If more people supported other teams and would have more school spirit, our Trojan pride would become relevant again. We need to bring back the lively student sections. We need to bring back black and gold. We need to bring back Trojan pride.