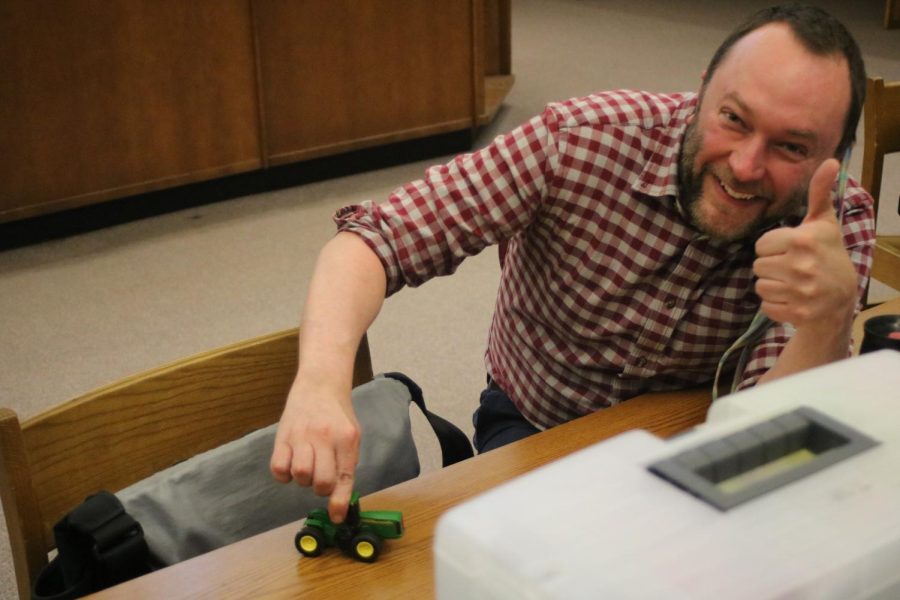 Elizabeth Anderson
Every day students can count on English teacher Randall Simpson to greet them with a cheery "Good Morning." While students may know him for this, many want to know more. 
Simpson used to teach in a very small town called Moulton, outside of Centerville, Iowa, where he lived. This school was so small that kindergarten through 12 grade was all in one building, and that was standard. However, that changed in August of 2018 when he accepted a job at AHS. 
"I had a hard time finding a place to live," said Simpson. "When I first got here, I wanted to live in an apartment," but there weren't very many options. He found himself living in "the hotel across from Walmart." Soon after he found a home, and the community came together to help him get settled in. "I didn't know anyone, but when I got here it was awesome. I had teachers and even students helping me," Simpson said. 
Once he had a place here in Atlantic, he began to do his favorite thing: work. "I probably have more free time than the average person because I don't have a wife or kids," Simpson said, "but even when I'm not working, I'm still working."
Simpson loves his career, but there were other hobbies before it. "I used to work out often, and I've always wanted to play guitar." Although he misses out on these things from working as much as he does, he doesn't mind. When he was a kid, he was involved in Model UN and a poetry club, which portrays his inner English teacher personality. 
"I can see his geekiness in his teaching, and I love it," sophomore Jaxon Pross said. "I feel like he never has downtime. I think he's always working on job stuff. He always seems to be 23 steps ahead. He's very organized and structured." Pross thinks Simpson would enjoy movies "like Marvel or just any Superhero movie. That's the vibe I get from him."
Sophomore Brock Henderson, who is in English II Honors with Simpson, said, "He seems like the kind of guy who would just take a stroll in the park. He's funny and pretty relaxed. He explains things well."
Sophomore Helena Buliche said, "As an English teacher, I feel like he just reads for free time. He's a great teacher. I like how chill he is, and how he can play along when kids mess around," Buliche said. 
Simpson does in fact love to read. He also likes to sleep and do crossword puzzles. "During the summer, I really love to work on my house, because that's when I'm not so busy."
With a new job and a new town, comes a new school district. Simpson said he loves it here. "I like the teachers, my department, and I think the kids are great. It's obviously a lot bigger, but all the kids are just really good kids." 
Yet, students still want to know more. Simpson has some pretty cool stories. He once worked on and with movies. He would help cast the actors and help anywhere else he was needed. He has even met some famous actors and producers such as Josh Lucas, Adrien Brody, Bill Paxton, Barry Mendel, and Cillian Murphy, with who he became very good friends. He's also been a part of Slipknot music videos, casting for them too. "I once had to take pictures of people with names and numbers for deciding on who to be in a video," said Simpson. 
Simpson has lots of interests outside of his job and has done some pretty neat things. Simpson just wants to live his life, have fun, and do it all with "No regrets."