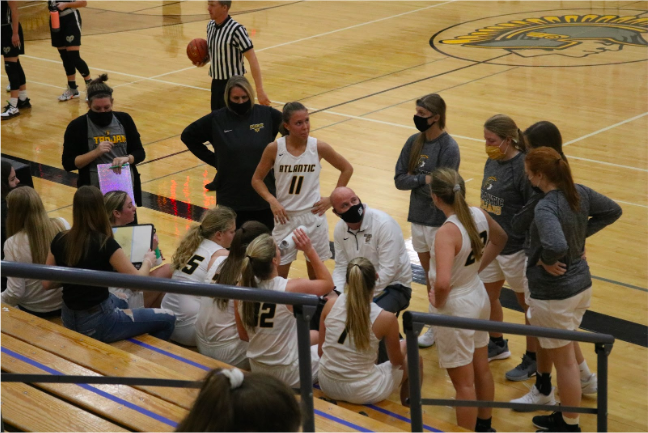 Reagan Leonard
With spring sports approaching, the girl's basketball team is onto districts. This gives the girls time to evaluate the season and celebrate their success. Coach Dan Vargason said, "I thought we had a pretty good season. Our girls got along well, played well together as a team, and were competitive in every game this season." 
The main challenge the team faced this season was COVID and the regulations put in place for basketball. The schedule was difficult, masks were worn as much as possible, yet the team still played hard. Vargason said, "The biggest thing was seeing our girls happy together on the court. They celebrated wins and stuck together in losses." A lot of schools lost games because of COVID, but the AHS girls basketball team was "fortunate enough to play all games." The team has a fair shot at state this year as well.
Sophomore Madison Huddleson embraced the highlights of the season. She said, "Haley Rassmussen scored 1000 points. It's been a while since someone has scored that many points in Atlantic's history." The girls won games that were normally "a battle," in past seasons. "Creston and St. Albert were usually hard, but we came close. Our team came out on top," Huddleson said. Although the team was very "senior-heavy" this year, she has high hopes for the seasons to come.
Senior Tessa Grooms was glad to see personal growth during the season. She said, "I have felt a huge growth from last year to this year's season. Knowing my role on the team is my biggest accomplishment." The basketball team is optimistic about the future, and open to expanding their team. If any students are interested in playing basketball next season, no matter their skill level, open gyms are available this summer.