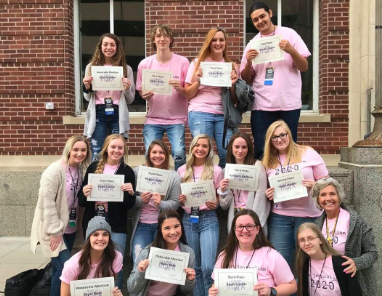 Allison Berryhill
Each spring, the Iowa High School Press Association holds a contest for journalism departments in the state. A variety of awards are given out–from videography to writing. Any IHSPA-member school can submit entries for the contest.
The 2020 edition of this contest was announced on Wednesday, Feb. 5. Schools were charged $1.50 for each entry in the 30 different categories. Each school could enter each category five times. They were encouraged to enter as much as possible, as points would be awarded for each first place, second place, third place, and honorable mention award a school obtained. These points would be added together and the top five teams in each class were given the title of "IHSPA All-Iowa News Team Finalist."
Additionally, schools could enter individuals for the Photographer, Videographer, Writer, and Designer of the Year awards, as well as the Emerging Journalist award. In these contests, there was no distinction of classes.
Every piece of work submitted must have been published between the dates of Saturday, March 9, 2019 and Monday, March 9, 2020. 
The journalism department fared well in both the individual and team contests. Adviser Allison Berryhill nominated sophomores Eleanor Greving, Kenzie Hoffman, and Drew Engler–as well as juniors Da'Jai Wesson, Caroline Pellett, Madison Botos, and Shayla Luke–for the Emerging Journalist competition. All seven students made the finals for the competition. On Wednesday, April 15, the top prize in this contest was awarded. The top ten Emerging Journalists were announced, and Pellett represented Atlantic. 
Elsewhere in individual competition, Berryhill nominated Greving for Hawkeye Photographer of the Year, and Wesson for Writer of the Year. After their work was examined by the judges, Wesson took home honorable mention in her respective contest.
As a department, AHS journalism submitted 69 entries in the 30 categories offered by the IHSPA. Winners in the contest were announced on Wednesday, April 15. 
The broadcasting team had a clean sweep in the Video News Show category, taking all four places. The top finisher was the Eye of the Needle from Friday, March 6. The group also snagged second place in the Video Story contest for alum Halsey Bailey's video in which students and staff were asked "What is the most painful thing someone has ever told you?" The ad team of Botos and classmates Maycie Waters and Braden Smith took third place in their category for their piece on Atlantic Specialty Care. In the Entertainment category, the trio of senior Aliyah Jordan and juniors Camryn Church and Haylie Handel took honorable mention for their "Sibling Challenge" video.
AHSneedle.com earned first place in Web Design. Elsewhere, the writing team had numerous placings for their pieces submitted in the contest. Wesson snatched second place in the Personality Profile contest for her article on freshman Melissa Soza-Manzanero and para-educator Delmy Lam. Two articles placed in the In-Depth News Story contest–sophomore Chaylei Carey took second for "The Grind of a 4.0" and junior Molly McFadden grabbed honorable mention for "Sitting Down with Hunt and McLean." In the Feature Story contest, Atlantic had a pair of stories place. Senior Hana Holtz took third for her story on cars in the school parking lot, and McFadden earned an honorable mention for her piece on Spanish teacher Dan Vargason's memes. Church earned an honorable mention in the Column category for her opinion piece on activity equality. For her review on "The Politician," Holtz took honorable mention in that respective category. 
Photography-wise, Pellett took the top spot in the News Photo competition for a picture taken at graduation last year. The photo shows alum Korben Peterson mid-yell at commencement. Also in the News Photo category, senior Grace Clay earned an honorable mention for her snapshot of Pete Buttigieg at the Venue on Monday, Nov. 25, 2019. This photo was attached to Church's preview of the 2020 Iowa caucuses. Atlantic had two pictures place in the Sports Photo category–Pellett took second for her picture titled "Tripod" and Greving earned honorable mention for "End of an Era." Junior Kynzie Steffens took honorable mention in the Feature Photo category for her picture on McFadden's "Learning to Teach" story. In the Photo Slideshow contest, McFadden's pictures and captions detailing Halloween at AHS earned honorable mention.
Finally, the social media team took third place for the coverage of the school year on Facebook, Instagram, Snapchat, Twitter, and TikTok. This category was a combination of all three classes of schools.
AHS journalism sits in third place in class A for News Team of the Year. The department totaled 67 points. Awards will be given out at the fall IHSPA conference in Iowa City.