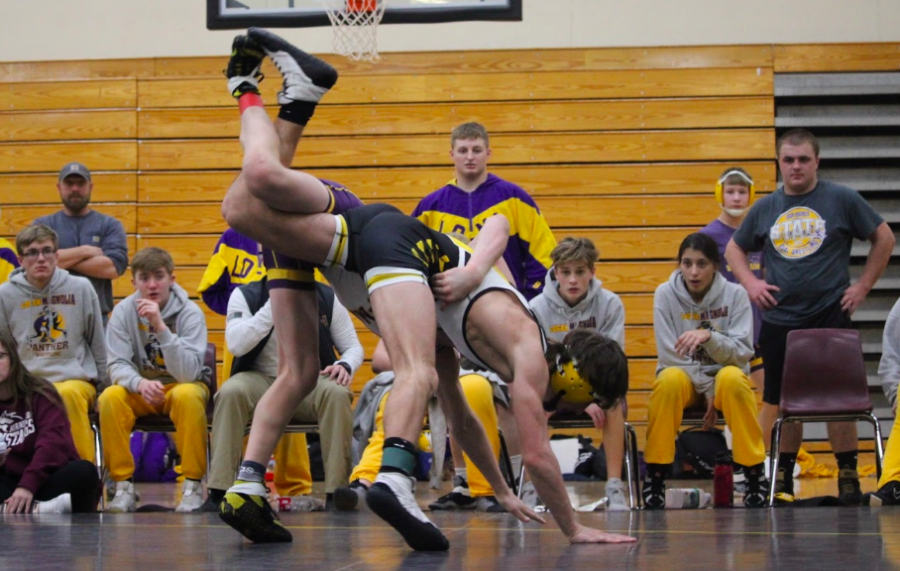 Eleanor Greving
The Atlantic-CAM wrestlers hosted the 41st Annual Rollin Dyer Wrestling Tournament on Saturday, Jan. 11. The Trojans went against a 14-team field which included schools such as Red Oak, Bondurant-Farrar, Sergeant Bluff-Luton, AHSTW, Humboldt, Glenwood and more. 
Overall, the Trojans came in seventh place with 111 points. Atlantic-CAM had two wrestlers continue on into the finals. Senior Cale Roller finished first at 285 pounds after the fall of Millard South's Conor Hoy. Junior Joe Weaver came runner up at 126 pounds to top-ranked senior Blake Cushing of Grand Island from a 15-0 decision. 
Individually, sophomore Ethan Follman finished in sixth place at the weight of 120, while junior Jaxson Bell finished seventh at 132 pounds. Sophomore Kadin Stutzman finished third at 152 pounds, and junior Devin McKay finished sixth at 195 pounds. 
The Trojan varsity will travel to Marion, and the JV squad will head to Council Bluffs Thomas Jefferson for a 16-team field tournament on Saturday, Jan. 18th.