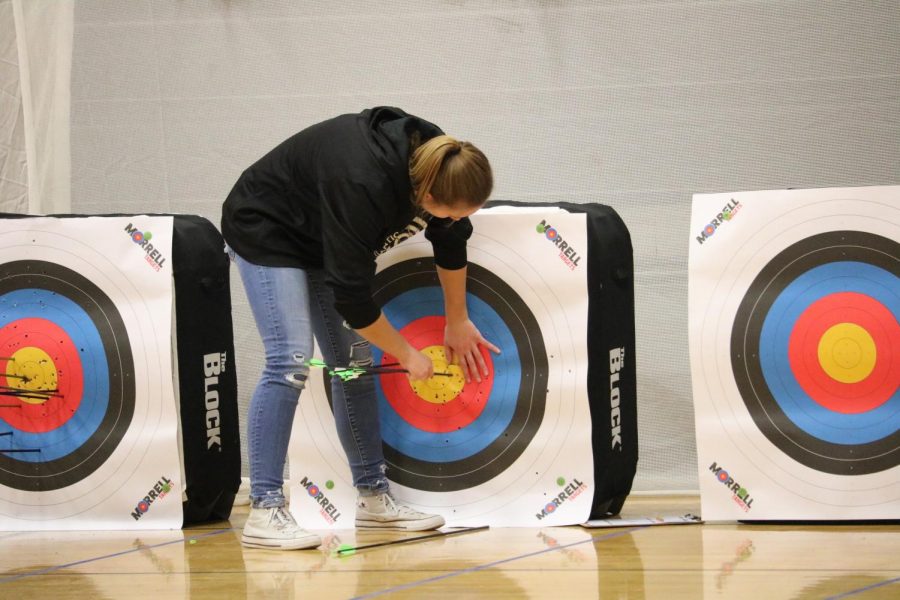 Jasmyne-Oasay Waddell and Taliya James
The archery team competed at home on Saturday, Dec. 14. While the team usually competes at the high school in the gym, with all the varying activities also taking place that day, the competition was split between the middle school and Schuler gyms.
The team competed in both a 3D tournament and a bullseye tournament on Saturday. "So for 3D tournaments, we shoot foam targets that vary in distance from us. After each round, you move to a different target that's either closer or farther away," junior Jasmyne Oasay-Waddell said. "They're shaped like foam animals." 
In the 3D tournament, sophomore Lee Houser and junior Zach Colton each scored 275 points to top the Trojan lineup. Colton had more tens, taking fifth place overall in the boys' competition. On the girls' side of things, freshman Halle Copeland shot a 268 with 11 tens. Copeland finished seventh in the girls' competition, and third for Atlantic behind Colton and Houser.
Bullseye tournaments are similar to the activities that take place in gym class. They shoot one practice round and three scoring rounds ten meters from the target, and the same number of rounds fifteen meters from the target. 
In the bullseye tournament, Houser scored highest out of all competitors with 292 points. He also had the most tens, with 23. For the girls, freshman Dayna Dreager was the highest-scoring Trojan with 282 points. She finished third overall in the high school girls' competition. 
The Trojan team scored a total of 3,330 points with 161 tens, putting them in second place.
Atlantic archery has another home meet on Saturday, Jan. 18.