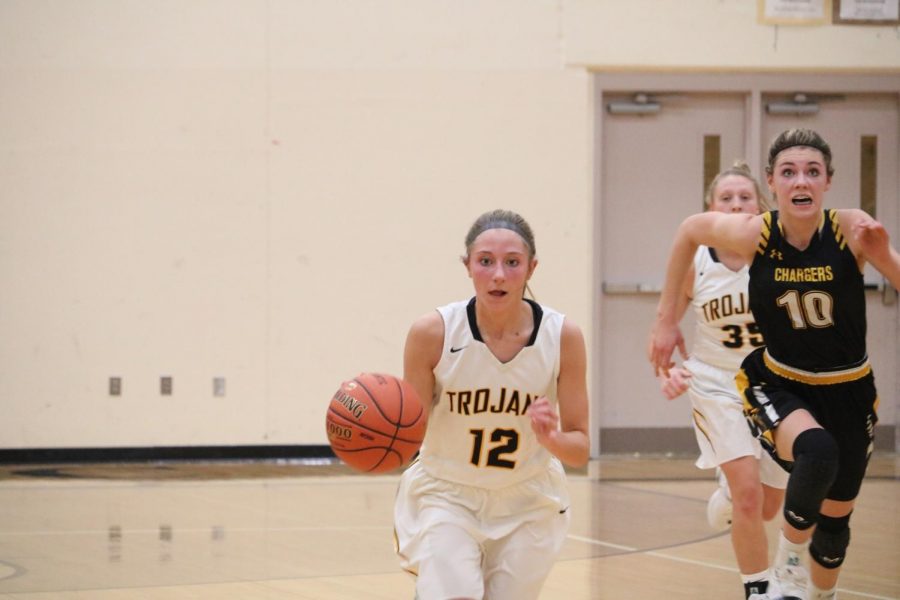 Hana Holtz
In the first competitive contest of the winter sports season, Atlantic took on Bondurant-Farrar. The girls basketball team tipped off their 2019-20 campaign on the road on Friday, Nov. 22. Earlier in the week, Atlantic played the nearby Exira-EHK Spartans in a Hall of Pride Scrimmage.
In the IGHSAU's preseason basketball rankings, Bondurant-Farrar rated #14 in class 4A. Last season, they attained a record of 12-10. This was the first time the two teams faced off in recent years.
In Friday night's game, the starters for Atlantic were juniors Taylor McCreedy, Haley Rasmussen, and Maycie Waters, along with seniors Kenzie Waters and Corri Pelzer. 
During the opening minutes, Bondurant-Farrar raced out in front of Atlantic, netting 15 points to Atlantic's eight. The Bluejays didn't let up, repeating the same numbers in the second quarter. At halftime, the Trojans trailed 30-16.
As the game went on, both teams got into foul trouble. On each team, three players fouled out. McCreedy, M. Waters, and Pelzer all had to take a seat. With fouls comes free throws, and Atlantic did a nice job of profiting from what they were given. Rasmussen went a perfect ten for ten from the free-throw line, and junior Tessa Grooms went four for four on penalty shots as well. 
The Trojans made up ground in the fourth quarter, but ran out of real estate, dropping the first game of the season, 52-42. 
In the season opener, Rasmussen led the team with 17 points.
Three teams in the Hawkeye 10 conference are named in the IGHSAU's preseason rankings. Atlantic will be competing with some of the best throughout the season.
The first conference challenger for the Trojans is Creston on Tuesday, Dec. 3. Atlantic hosts Creston as part of a doubleheader. Tip off is scheduled for 6 p.m.