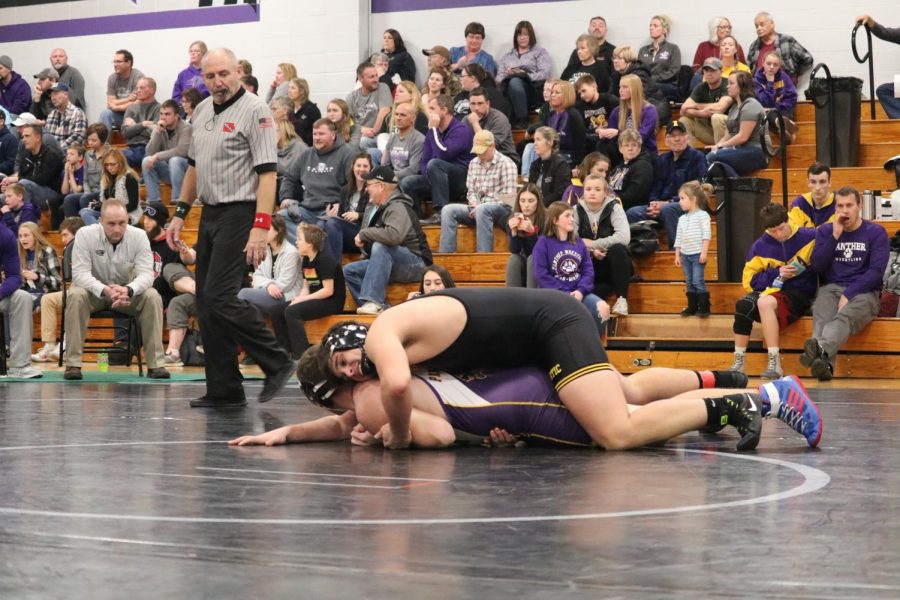 Aleigh Bean
This wrestling season is coming up fast, and the first official practice is on Monday, Nov. 18. However, the wrestling room is already open to anyone and everyone on Mondays, Tuesdays, and Thursdays right after school. First-year coach Connor Larson said pre-season open mat gives wrestlers a chance to get the rust off.
The 2019-20 season will be Coach Tim Duff's 14th year as the high school wrestling coach. Duff said there should be around eight girls and 30 boys out this season. Duff also said the season is going to be exciting. He expects to have a lot of young kids out for the sport. He said the girls are going to have to learn a lot but he is excited to see them develop.
Similarly, Larson is also ready to start the season because it is his first real coaching job. He said, "Success is not measured, it is earned." He went on to say everyone just needs to come to practices and be ready to work hard.
Coach Duff reflected on last season, saying, "We lost a lot of good people, but if we come to practice focused, and the older kids step up and be a leader, then we should come out just as strong as we did last year." Junior wrestler Peyton Fewson said, "We are definitely going to be a different team this year, but there should be success."
"Gold medals are not really made of gold. They are made of sweat, determination, and something that is hard to find called guts," Larson said. Senior wrestler Cale Roller said, "Since we were good last year, we will have a target on our back. We are going to have to come out strong." He went on to say "Duff will put together a great team."
The Atlantic-CAM wrestlers will make their first move on the mat on Thursday, Dec. 5 in Atlantic. Larson said from now until the first match he is looking for everyone to show some improvement. Senior wrestler Aleigh Bean said, "I am looking forward to this season so I can compete in a new sport." She also looks forward to learning new skills.
Those interested in going out for wrestling should talk to Coach Duff.