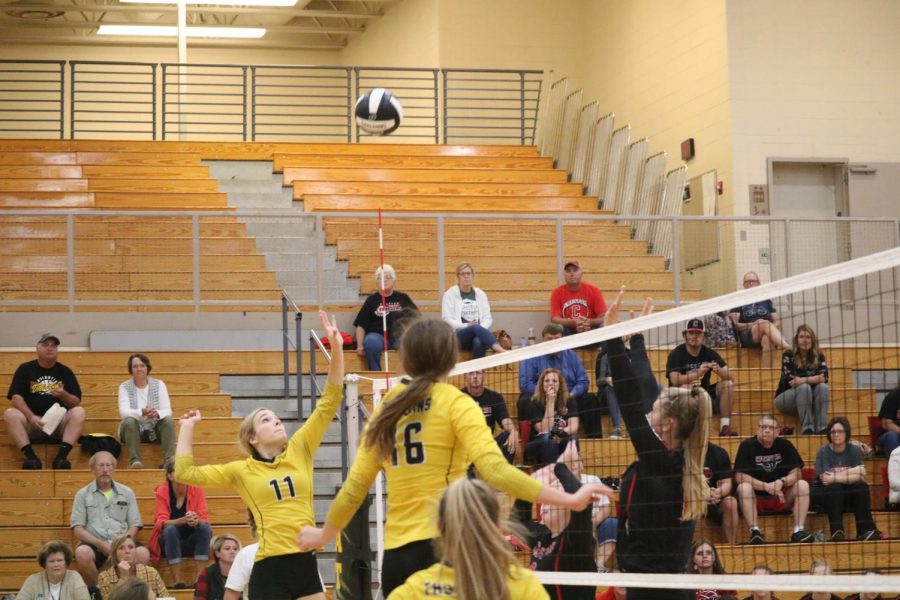 MaKynzie Steffens
In their last home contest of the season, Atlantic played Shenandoah and Red Oak. It was also senior night, honoring the trio of Chloe Davis, Emma Templeton, and Kenzie Waters.
The Shenandoah Fillies were 11-14 when they arrived in Atlantic. The matchup against Shenandoah was pretty even, as the Fillies were winless in Hawkeye 10 action. 
Right away, the two teams proved just how close the match would be. Shenandoah's offense had met its counterpart in Atlantic's defense, and the two teams fought back and forth in the first two sets. In the narrow decision, it was Atlantic on top, 27-25, 25-23. 
In the third, the Trojans were unable to close the door on Shenandoah. Blocks up front ended points quickly, in favor of the Fillies. After falling behind in the third, 25-12, Atlantic looked again to finish the match. However, Shenandoah stole a close one, 25-23, despite a quick four-point run by Atlantic at the end of the set. 
In the fifth and final frame, Atlantic fell behind 4-0. The Trojans were unable to make up the lost ground and dropped the match, 15-11.
Following the loss to Shenandoah, Atlantic turned around and took on Red Oak. The Tigers boasted a record of 24-5. They were ranked #8 in class 3A. The two squads met earlier in October, in which Red Oak was the victor, 21-4, 21-10. Knowing what the Tigers bring to the table–power-hitting and blocks–the two teams took the court.
With a winning mindset, Atlantic raced out in front of Red Oak in the first. The Trojans were up 22-18 when Red Oak began to crawl back into the picture. However, ahead by one point, Atlantic served it out and took the first set over the ranked team.
Despite clinching the first frame, the next three were a blur of Red Oak's efficient playing style. The Trojans were able to stay strong on defense, but watched as Red Oak snagged the next three sets 25-9, 25-12, 25-9.
On senior night, Davis went a perfect 24 for 24 from behind the service line. To top it off, she had three kills. Through two matches, Waters had 25 digs and 17 kills. Finally, Templeton had 7 digs and four aces. 
Atlantic will play Red Oak again at the start of postseason play. On Oct. 23, the two teams will face off in Red Oak.