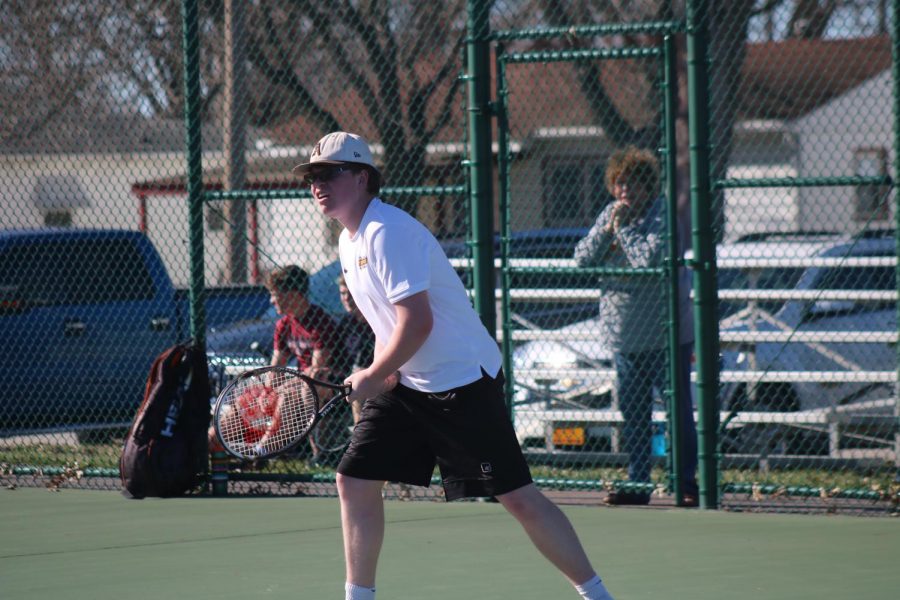 Dani Mathisen
The week began with a busy start for the Atlantic boys' tennis team, as they hosted Creston on Monday night and travelled to Denison on Tuesday.
On Monday, the Atlantic boys finally made up their Creston dual, after two postponements. Creston came to town winless, as they had lost in both of their previous duals against Red Oak and Southwest Valley. The Trojans carried a record of 2-1. The boys proved successful as they had their second 9-0 dual win of the season.
Notable wins came from juniors Nile Petersen (#1) and Brody O'Brien (#3), who shut out their opponents. All Trojan boys gave up five games or less in their singles matches. Senior Avery Andersen, who attained his second varsity win at the #5 spot, said, "I think for it being our fourth meet, we made some great improvements."
The following evening, the boys' headed northwest to Denison to take on the Monarchs. Denison-Schleswig led the conference standings, sitting at a perfect 5-0 record. With the hopes of dethroning the leaders, the Trojans suited up.
The conference leaders proved strong, and Atlantic lost their second dual of the season, 7-2. Petersen and sophomore Grant Sturm (#6) added on to their winning streaks, with 10-7 and 10-4 wins, respectively. "You can't overlook the fact that they are one of the Hawkeye 10 contenders," Andersen said. "I thought our team put in a good effort."
Next up for the Trojan boys is a road meet in Clarinda on Thursday. "I think it's going to be very similar to the Denison meet," Andersen said. According to Andersen, Clarinda is another possible option to claim the Hawkeye 10 team title. The Cardinals are unbeaten thus far, sitting at 3-0.