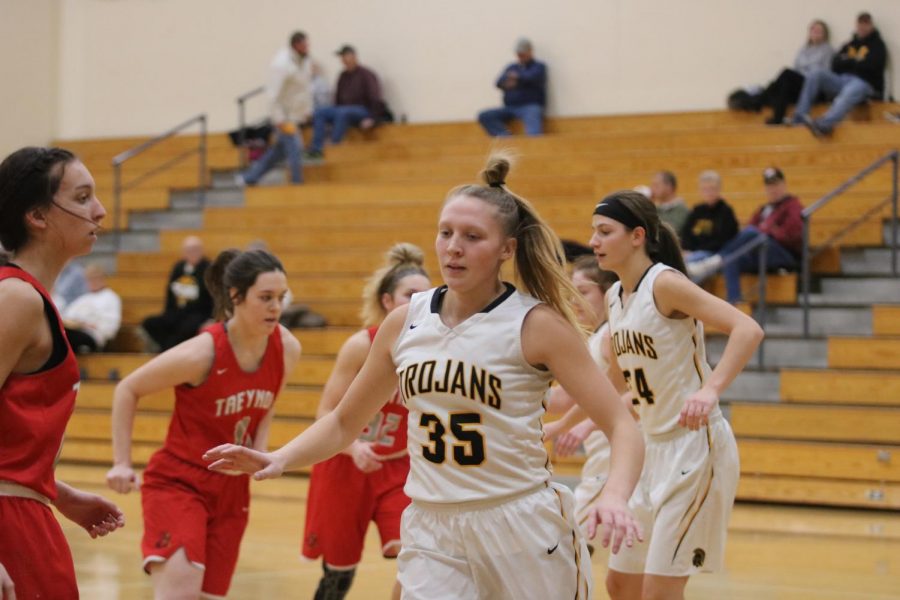 Grace Barkley and Colin Mullenix
Toe-to-toe with the #2 team in a scrappy class 2A, the Trojans faced off against Treynor at home on Monday night. The Cardinals arrived in Atlantic hungry to redeem themselves after losing on Saturday night, which destroyed their unbeaten record. Fresh off a conference win, the Trojans were ready to take on Treynor.
The Atlantic JV squad had not played since their 36-31 loss to Kuemper Catholic, as their meetup with Clarinda was cancelled due to the expected wintry weather. They took the court first, and led the Cardinals 14-10 at halftime.
In the third quarter, Atlantic started to pull away from Treynor with back-to-back buckets from sophomore Lauren Nicholas, and a three-pointer from sophomore Taylor McCreedy. Through three quarters, Atlantic was on top 28-15.
Continued Trojan scoring and another three from McCreedy helped the Trojans seal the deal against Treynor, 40-25. This win ended the JV team's losing streak.
Following JV's win, varsity took the court. In the first quarter, both teams made it into double-figures, with Treynor outscoring Atlantic by 11 points. The Cardinals positioned themselves in the lead 23-12. Persistent scoring and steals from the Cardinals helped them pull away from the Trojans in the second quarter. Atlantic trailed 41-17 going into the locker room.
While the Cardinals still put up points on the Trojans, Atlantic's defense limited the opposition to single-digits in the fourth quarter. However, the #2 ranked Treynor team got the best of the Trojans 69-29. This 40-point loss was the largest the Trojans had faced all season.
Though a skilled Cardinal defense limited Trojan scoring, two Atlantic girls finished in double figures at the end of the night. Sophomore Haley Rasmussen and senior Baylee Newell netted ten points apiece. As a team, Atlantic nabbed 12 rebounds.
Next up for the Trojan girls is a road game against Red Oak on Friday. The Tigers are currently ranked #13 in class 3A by the Iowa Girls High School Athletic Union.