Mental Health Awareness Month
"To be healthy as a whole, Mental Wellness plays a role."
Hang on for a minute...we're trying to find some more stories you might like.
The month of May has been recognized as Mental Health Awareness Month in the United States since 1949. According to Mental Health America, during the month of May, there are many different activities happening all over the U.S. to support mental health, such as walks and runs for people to participate in and seminars explaining different mental illnesses.
As stated by Psychology Today, there are five common misconceptions about mental health and mental illness. One such misunderstanding is "you're either mentally ill or mentally healthy," which can be compared to the way a physically healthy person may experience a minor health issue from time to time, such as a headache or knee pain. A mentally healthy person may experience problems with their emotions occasionally.
Other misconceptions include that mental health and illness are the same things and that people with a mental illness are violent. However, these are not completely true. For one thing, there is a difference between the two. Everyone has mental health just like everyone has health, but not everyone has a mental illness, let alone the same one. Different symptoms impact people's' lives in different ways. The American Psychological Association (APA) also reports that only 7.5% of crimes are directly related to symptoms of mental illness. Poverty, substance abuse, unemployment and homelessness are among the other reasons why people commit violent acts.
Mental illness also refers to a wide range of mental health conditions. A mental illness is a disorder that affects your mood, thinking and behavior. Some examples include depression, anxiety disorders, schizophrenia, eating disorders and addictive behaviors. Some related conditions of these are psychosis, self-harm, sleep disorders and even suicide.
Today, millennials and younger women (16-24) are reporting higher rates of mental health issues than older generations. Teens and college students tend to experience greater rates of depression and anxiety while women are more prone to depression.
The reason for this is unknown for certain but some causes may be perfectionism and self-criticism, as younger people tend to have higher standards for themselves. Some of this could be self-imposed but some may also be coming from social pressures and social media. Other factors that cause people to struggle with their mental health are genetics, personality traits, physical health and possible past trauma.
A stigma is defined by dictionary.com as "a mark of disgrace or infamy," or a negative perception or stereotype that can affect whether a person decides to seek treatment. Emily Birchard, Prevention and Training specialist at Catholic Charities in Council Bluffs said, "People should realize that it isn't up to anyone else at how you feel, at the end of the day it is your body, your mind, and your choice." Birchard comes to AHS every Friday to talk to the health classes about sexual violence and different forms of bullying.
Stigma comes in two types: social and self. A social stigma is a general perception of society when it comes to a health problem and an example would be people thinking that someone with a bipolar disorder is unstable or violent. This is the stigma commonly referred to pertaining to mental health.
A self-stigma is when a person thinks negatively about themselves based on social stigmas. Such as feeling embarrassed or ashamed about what they're going through. This typically causes a person to be in a state of mind where they don't feel comfortable talking about the things that are bothering them for fear of being judged or not taken seriously.
In the United States, anxiety disorders are the most common mental illness, affecting 40 million adults or 18.1% of the population every year. One in five Americans are affected by some other condition as well. Even young children may show early warning signs of mental health concerns. These are often clinically diagnosable and can be the product of biological, psychological and social factors.
Each year millions of Americans face the reality of living with a mental illness. During May, the National Alliance on Mental Illness and the rest of the country are raising awareness for mental health, fighting stigma, providing support, educating the public and advocating for policies that support people with mental illness and their families.

About the Writer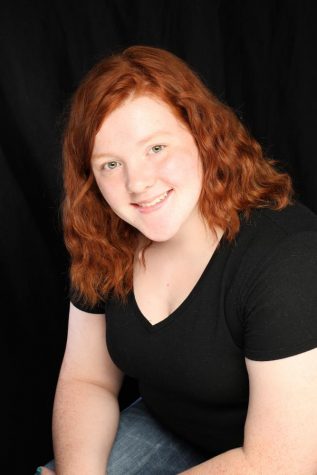 Abbey Bishop, Editor
Junior Abbey Bishop is an editor on the AHS journalism team. During her time as an editor, the story she is most proud of is, "the one about the six new teachers to AHS" last year. Her favorite part of the journalism program is "being with Hannah Maley." Maley is also her best friend and...