Boys' Basketball Preview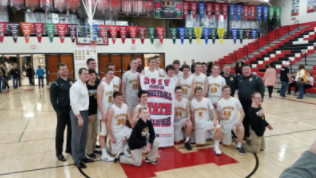 Hang on for a minute...we're trying to find some more stories you might like.
We know when the winter rolls around the words start buzzing on how the boys' basketball team will do for the current season. People will say, "They will not be good without Garrett," but the coaching staff said the team has made strides in the offseason with their shooting and bonding, with shoot-outs and scrimmages during the middle of summer.  
Head coach Alan Jenkins said the kids that made it to State last year would want to drive them for a run at it again this year.  He said returning players will hopefully lead them to making it to the "Well" again.
Junior Chase Mullenix, who is the Trojans' starting shooting-guard, hopes to see first and foremost "how the team will look without Garrett." Everyone is looking to make an impact on the game. Mullenix was a strong defensive player for the Trojans last year and his freshman year. He could score at any minute when on the floor so he wants his junior year for him to put it all together. 
JV coach and varsity assistant Jeremy Blake said that a 17-win season this year would break a record for most wins in a 4-year span. This would break a record from the '60s in which Atlantic played good ball during that decade.
Jenkins is looking for the program to accumulate 40 wins as a whole, and he's got some talented coaches in the lower ranks such as JV and freshman.
Blake wants his guys to make big strides in their games when it's their time to come. When they reach their junior/senior year they will know the mentality and what it takes to make it in the Hawkeye 10. Some of the players Blake is most looking forward to working with include the "sophomores Nile, Cyle, Brody, and Spencer."
Sophomore Brody O'Brien is looking forward to a short and sweet but straightforward  goal. He wants "All the dubs."
Blake just wants his young guys to develop but also provide a tough task for the varsity players when they practice against them.
But some players from the freshman class could possibly impress the coaches, like Tyler Moen did last year. The coach that made him move up the ranks was freshman head coach Brandon Krause.
Krause every year thanks the parents for the kids who can't drive to school to get up and take them to practice at 5:30 in the morning so they can play the sport they love. Krause said he wants the freshmen to develop and grow a strong base for their skill set for their future years in the program.
Freshman Grant Sturm's personal goals for the season and the team's standpoint include wins and good strong team defense with "more dubs" than middle school.