"Stayin' Alive" Rocks AHS Health Class
Twenty-one students become CPR certified.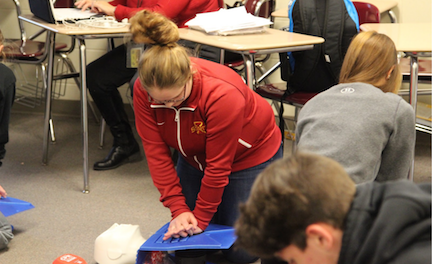 Hang on for a minute...we're trying to find some more stories you might like.
The Bee Gees are back. That's right AHS is "Stayin' Alive." Health teacher Tucker Weber's classes are learning CPR. Students had the option to pay $8 to become CPR certified. All students had to participate in the class, but taking the test on Thursday, Dec. 15, and paying an $8 certification fee were optional.
CPR classes used to be taught in gym class but were moved to Health class when the State of Iowa passed a law requiring all students to take a part in CPR training during high school.
Health classes started CPR training Dec. 12. In the first session the students watched videos on how to correctly perform CPR. "It was very interesting to learn what to do beforehand," sophomore Hannah Maley said.
During the second session students began working with the CPR manikins. Sophomore Abbey Bishop said, "It was different because it wasn't the same as a real human." In the third and final session the students learned how to use an automated external defibrillator (AED) and practiced over and over to perfect CPR.
On Dec. 15 students put their CPR skills to the test. Weber and AHS nurse Kelly Evans tested all students that wanted to become CPR certified.
A total of 21 students ended up receiving their CPR license. "It was really good. A lot of people wanted to become certified, and that was good to see," Weber said. Weber was recently certified to teach the class. "It was easy," he said, "I got it down pretty quick."
Evans was shocked by the number of students who wanted to become certified, "More wanted to become certified than when I taught the class last year," she said. Evans has taught this class more than 25 times throughout her career. She said she once had to use CPR at a Cracker Barrel restaurant in Council Bluffs, Iowa.